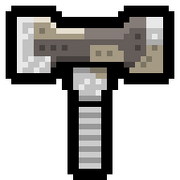 The Scrap Hammer is a end-game weapon, being the best Hammer currently in the game, it deals the most damage per hit, but it is also the slowest weapon in the game. The only weapon who has larger DPS is the
Katana
.
Damage: 74
DPS: 46.25
Attack Speed: 1.60s
Knockback Ratio: 40.5
Max Targets: 2
Crafting Requirements
Edit
Weem created a contest in the beginning of August, for the people to give him ideas for a new weapon, after receiving almost 40 entries for the contest, two weapons were chosen: Scrap Hammer by TuPpKaM a member of the Epic Inventor Forums and Eagle Blade by Eskinor, a member of the Terraria Forums.
Ad blocker interference detected!
Wikia is a free-to-use site that makes money from advertising. We have a modified experience for viewers using ad blockers

Wikia is not accessible if you've made further modifications. Remove the custom ad blocker rule(s) and the page will load as expected.