The Radiumite Sword is the highest grade sword, because it is made of 3 Radiumite blocks and 3 platinum,Radiumite blocks are made out of 1 ruby, 1 sapphire, 1 emerald. Rubys are dropped from red orcs (rare) and sapphire is dropped from spider worms (rare) and la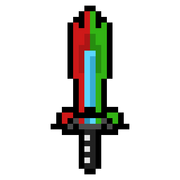 st of all, emeralds that are dropped by green orcs (rare). Platinum is found rarely underground (about the layer where locators don't work) and is usually mined in 1-2 deposits.
Crafting Requirements The Radiumite Sword's crafting requirements are;
Ad blocker interference detected!
Wikia is a free-to-use site that makes money from advertising. We have a modified experience for viewers using ad blockers

Wikia is not accessible if you've made further modifications. Remove the custom ad blocker rule(s) and the page will load as expected.